Home Page
OUR PRIVACY STATEMENT CAN BE FOUND AT THE BOTTOM OF OUR 'ABOUT' PAGE
PLEASE CHECK OUT OUR

EVENTS

PAGE TO SEE ALL THE FUN EVENTS WE HAVE
UPCOMING THIS YEAR!!!
WE WOULD LIKE TO WISH EVERYONE A VERY MERRY CHRISTMAS AND A HAPPY AND HEALTHY NEW YEAR AND TO ADIVSE YOU THAT THE OFFICE WILL BE CLOSING FOR THE CHRISTMAS PERIOD AT 3.00PM ON FRIDAY 20TH DECEMBER AND WE WILL RE-OPEN AT 9.00AM ON THURSDAY 2ND JANUARY.
WE LOOK FORWARD TO SEEING MANY MORE OF YOU IN THE NEW YEAR.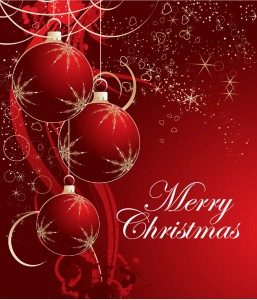 BEXHILL CHRISTMAS WINDOW COMPETITION 2019
We are very happy to announce that we were awarded

2nd place

in the Bexhill Christmas Window competition.  Our fantastic window displays were all thanks to the hard work of many of our volunteers, clients and staff.  As you can see from the picture below, we had almost everything knitted, including the Christmas dinner.  We would like to thank everyone who contributed towards this display and to especially thank our wonderful volunteer, Jane, for all her hard work putting the displays together.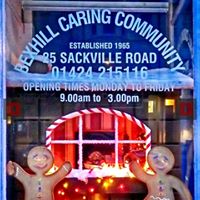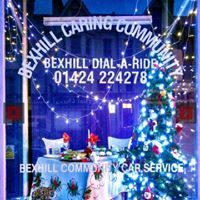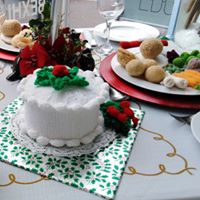 EAST SUSSEX HEARING RESOURCE BUS
A FREE SERVICE BROUGHT TO BEXHILL
East Sussex Hearing Resource Centre is a registered charity working in partnership with Adult Social Care to provide a no charge mobile information and advice service for Deaf, deafened and hard of hearing people living in East Sussex.  The vehicle is equipped to offer demonstrations of assistive equipment and hearing screening tests.
The mobile unit will be visiting Bexhill on Thursday 9th January 2020, and will be on Devonshire Square from 10.30am – 3.30pm.
The bus is accessible to wheelchair users and representatives from both the East Sussex Hearing Resource Centre and Adult Social Care will be available to provide individual information and advice on all aspects of hearing loss.
For further information please contact:
East Sussex Hearing Resource Centre,
Tel: 01323 722505 (voice/text/fax) e-mail: mail@eshrc.org
DEMENTIA SUPPORT GROUP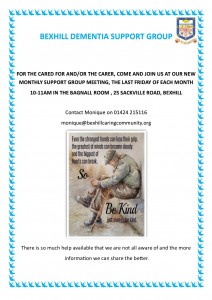 This Group is held on the last Friday of every month.
Unfortunately due to unforeseen circumstances this is cancelled for November and December. The
Next date will be on Friday 31st January.   Apologies for any inconvenience caused.
BEXHILL CARING COMMUNITY – DEMENTIA SUPPORT GROUP
Bexhill Caring Community propose to trial a FREE monthly support group for those people who are caring for someone with dementia. The Carer is     welcome to bring the person they care for along with them. The object of this new group is to try and support those who are struggling, as well using the knowledge people have gained to share with each other.  We hope to provide some networking with other services that can provide useful information and sign post people where necessary. There is so much help available that we are not all aware of and the more information we can share the better.
The group will be held on the last Friday of each month at 10am for one hour as of  Friday 28th June 2019 in the Bagnall Room, behind our offices at 25 Sackville Road, Bexhill. If all goes well we could look at extending this.
If you are interested to get involved either as a client/visitor or provide our group with information please contact me in advance to book in:
monique@bexhillcaringcommunity.org or phone me, Monique Southgate, on 01424 215116
VOLUNTEER OF THE YEAR 2019
Congratulations to our wonderful Volunteer of the Year 2019, Gill Gilkes being presented with her award by our new Mayor Cathy Harmer!!!

Gill has been volunteering twice a week in our office for several years and has become an invaluable member of our team.  Congratulations Gill and here's to many more years with us.
SUREWISE INSURANCE FOR MOBILITY SCOOTERS AND WHEELCHAIRS
We have teamed up with Surewise Insurance to offer Mobility Scooter Insurance, with no excess, at a reduced rate (from £38.50 per year) and Wheelchair Insurance (from £24 per year) for anyone who needs it.  Please contact them on 01268 200020 quoting the number 100063.
NOTICE OF ANNUAL GENERAL MEETING
Notice is hereby given that the Annual General Meeting of Bexhill Caring Community will be held in the Bagnall Room, 25 Sackville Road, Bexhill, at 11.00am on Thursday 18th July 2019.
Tea/coffee will be served from 10.45am onwards.  Everyone is welcome.  Please could you let us know if you are able to join us by contacting us either by phone, in writing or emailing us at info@bexhillcaringcommunity.org
We look forward to seeing you.
OUTINGS
For any clients interested, we now do outings on selected Tuesdays throughout the year at a cost of £10 per person as below:
2019
Tuesday 16th April                  Eastbourne Morrisons & The Range
Tuesday 21st May                  Jempsons Peasmarsh
WEDNESDAY 12th  June       Hilliers Garden Centre
Tuesday 18th June                 Blackbrooks Garden Centre
Tuesday 16th July                  Waitrose Hailsham
Tuesday 20th August              Eastbourne Morrisons and Dunelm Mill
Tuesday 17th September       Battle Great Farm Nursery
Tuesday 29th October            ESK Eastbourne
Tuesday 19th November        Arndale Centre Eastbourne
Tuesday 10th December       Blackbrooks Garden Centre
2020
Tuesday 21st January           Eastbourne Morrisons and Dunelm Mill
Tuesday 18th February         Waitrose Hailsham
Tuesday 17th March             Jempsons Peasmarsh
Please contact Angela to book. Please remember spaces are limited.
SOMEWHERE DIFFERENT?
If you have any suggestions of new places to go please contact Angela on 01424 215116
VOLUNTEER OF THE YEAR 2018
We are very pleased to announce that our 'Volunteer of the Year 2018' is OLIVE KERSEY.  Olive has been volunteering in our office for over 25 years and we felt this was a fitting way to show how much we appreciate her.  Congratulations Olive and here's to many more years happy volunteering.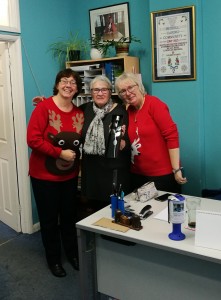 MEMBERSHIP SCHEME
As of 1st January 2017 we are introducing a Membership Scheme which will cost £25 per annum for clients to join.  This will entitle all Members to full access to all our services, i.e. medical car service, Dial-A-Ride, introduction to carers, domestics etc. (all at favourable rates) as well as being able to vote at our AGM and receiving a bi-annual newsletter.  This Membership fee equates to less than 50p per week.
Bexhill Caring Community, up until now, has relied totally on fundraising, donations and legacies to provide it's many services to our townsfolk but as it receives no grants from either local or central government, this is sadly becoming increasingly difficult.  Therefore this scheme is being introduced to help with the spiralling administration costs which the charity has to face now and in the future.
If you, or a relative, live in Bexhill and would like to become a Member, please contact our office for a Membership form or download a form here Membership, GDPR & SO forms – October 2018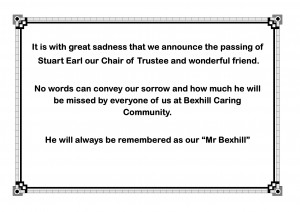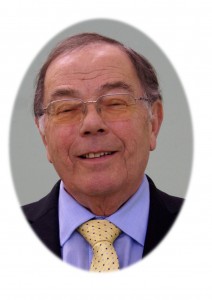 Winter Warmth
Although most people are not worrying too much about ways to keep warm at the moment, now is the perfect time to pre-pare for colder months ahead. Keeping warm over the winter months is an important part of staying healthy. The East Sussex Winter Home Check service is available all year round for vulnerable people on a low income. If you are working with someone who struggled to keep warm last winter refer them now! For more information and eligibility criteria visit: www.warmeastsussex.org.uk Phone free on 0800 085 1674 to arrange a visit, or fill out the online application form.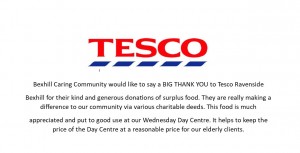 TWIDDLE MUFFS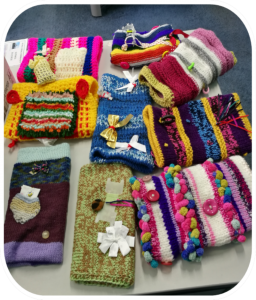 What is a twiddle muff? They are knitted muffs with items attached to keep dementia   patients' hands active and busy. They contain strands of textured ribbons, beads and various fabrics attached both inside and outside.
People with dementia often have restless hands and like to have something to keep their hands occupied. A twiddle muff provides a wonderful source of visual, tactile and sensory stimulation and keeps hands snug and warm at the same time.
Our volunteers have been busy knitting twiddle muffs for us to sell for a donation of £5.
Whether used for someone with dementia or simply to keep your hands warm and busy, why not buy one for someone you love. Come and see our full range in our offices in Sackville Road.
Do you have any foreign coins you don't want?
We would be really grateful if you would consider donating any of your spare foreign coins to us as we have someone who will purchase these from us to help us raise funds for our Charity

Thank You in anticipation for your generosity.
*** STOP PRESS ***
6th March 2017
League aids patient transport
THE keys of a £43,000 new wheelchair-accessible 14-seater mini-bus have been handed over in a ceremony in front of Bexhill Hospital.
The mini-bus, complete with powered tail-lift for wheelchairs and sign-written "League of Friends, assisting with transport for the community," has been purchased by the League. It will remain in League ownership but will be operated by fellow local charity Bexhill Caring Community as part of its three-vehicle Dial-A-Ride fleet.  Among the services provided by Dial-A-Ride is patient transport to the hospital.
Town Mayor Cllr Simon Elford was guest of honour at the Thursday, March 2nd ceremony. League chairman Cllr Stuart Earl is also chairman of Bexhill Caring Community. League treasurer Chris Ashford is also BCC treasurer. Both officers had declared an interest and left the room before the rest of the league's general committee unanimously decided last year to fund the purchase of the vehicle and go into partnership with BCC.
The Caring Community was represented at the photo-call by manager Jackie Haggerty and colleagues Monique Southgate and Angela Van Aalst together with Terry Clarke, one of seven BCC drivers.  The League was also represented by its President, John Dowling and by committee members Audrey Kerr, Harriet Chapman, Pearl Easton and Peter Stiles.
Presenting the BCC manager with the keys to the mini-bus, Cllr Earl said: "Everybody here will appreciate that this is a 'first'. This is something where two charities which serve our community here in Bexhill have worked together to provide something which will benefit so many people.  "We are delighted from the League of Friends that we have been in a position to put on permanent loan to Bexhill Caring Community this new mini-bus.  I think this will send out a wonderful message to our community that we are not individuals – we all in this town serve each other and care for each other and I hope that this is the start of a great relationship where we can work together."
The Town Mayor said it was always a pleasure to witness the work of the League of Friends, which was providing an amazing amount of equipment for patients.  "I think the people of Bexhill are really lucky to have groups like this which are working so hard for the community. 
On behalf of Bexhill – thank you very much."
The Rev Barnett said: "I am here today to congratulate the League of Friends for their vision in providing this vehicle for the use of the community. I think it will have a great deal of use among many people."  The chaplain wished all users of the mini-bus "safe travel."
Jackie Haggerty said: "We are extremely grateful for this wonderful mini-bus. It will make a splendid addition to our charity and we look forward to welcoming people on it."
The mini-bus went into service the following day. It is planned to have the Dial-A-Ride buses available to transport supporters to and from the Hospital Garden Party on Saturday, June 10.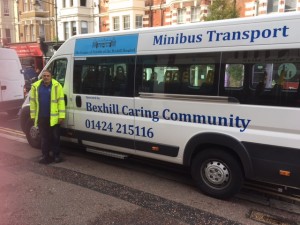 VOLUNTEERS REQUIRED

 
We are looking for volunteer helpers in the following fields:-
Home Library Service

– to take library books to those who cannot get to the library themselves – a few hours every two weeks
Medical Car Drivers

– to take clients to hospital or doctors appointments.  45p per mile is paid.
Befrienders

  – to have a chat and a coffee with clients in their homes
Mini Bus Escorts

– for our Day Centres – approximately 2 hours am and pm on either Wednesdays or Fridays
If you are able to help in any of these sectors please either contact us on 01424 215116 or pop into our office at 25 Sackville Road, Bexhill on Sea, Monday to Friday between 9.00am and 3.00pm and we will be happy to have a chat with you.
TABLE AND CHAIR HIRE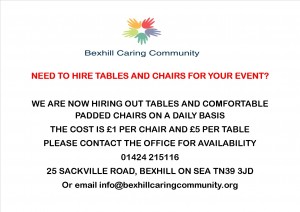 Useful Links
Recent Comments

Archives

Categories

Meta